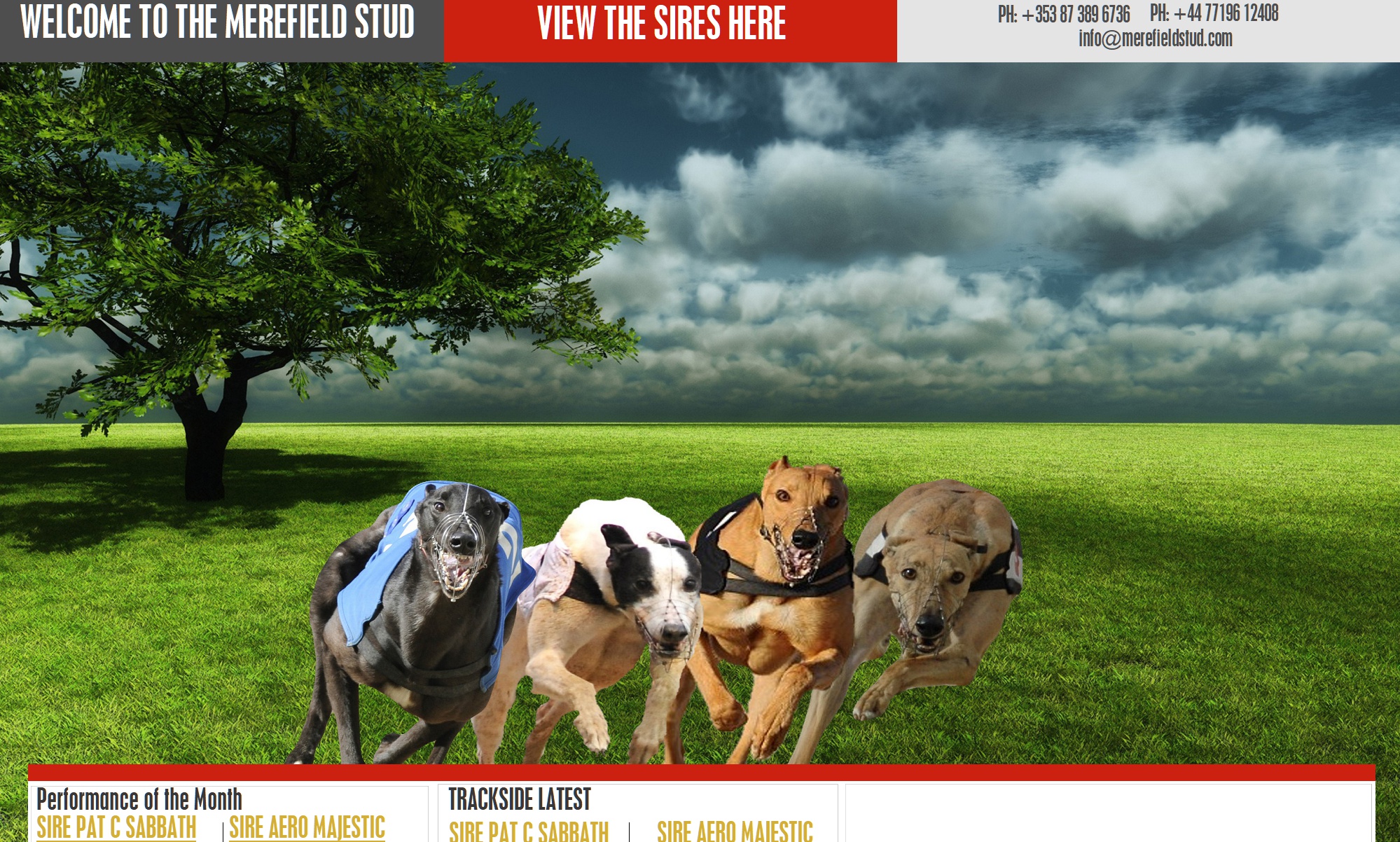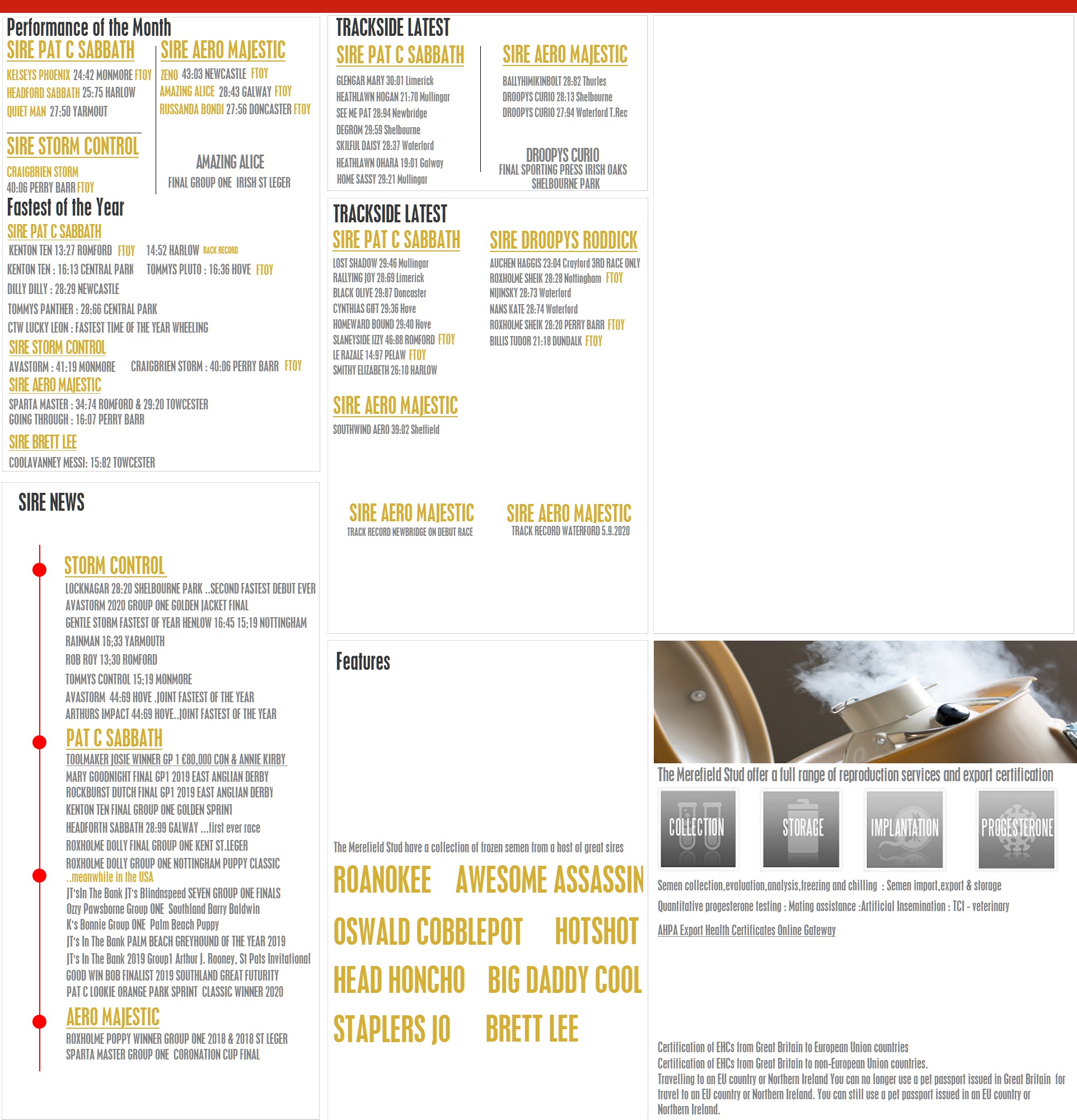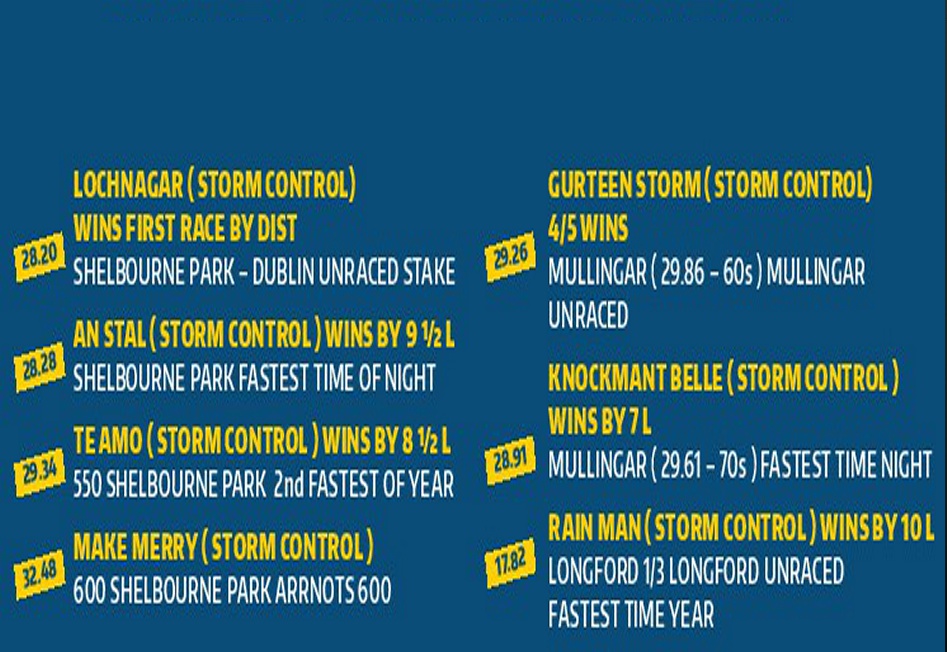 contact us

site map

Welcome





.
. . . . . . . . . . .
. . . . . . . . . . . . . . . . . . . . . . . . . . . . . . . . .

Stud News

Located close to the tiny hamlet of Croft in Cheshire Merefield Stud is the UK's Number One Stud & Frozen Semen Facility.Merefield stand a number of fresh service sires including Montos Mark,Ballymac Ace & English Greyhound Derby Winner Bandicoot Tipoki

We also stock frozen semen from many the World's Top Class Sires such as Brett Lee,Larkhill Jo and Kiowa Sweet Trey.Merefield have several brand new sires to introduce shortly including a couple of all American Sires and some brand new Australian Sires

The Stud complex stands in 8 acres of beautiful Cheshire farmland and incorporates a purpose built kennel block with CCTV,central heating/air conditioning,individual turn out paddocks,large exercise fields and a 500m grass gallop,
The onsite facilities also include a registered veterinary practice as well as a fully equipped laboratory with the latest siemens immunoassay analyser,hamilton thorne semen analyser and idexx vettestsuite,We also have hydrotherapy waterwalker available on site.

News March 2014

Another litter of 10 - for

Razldazl George
born from frozen semen imported from Ireland and inseminated by MVS VETS using Trans cervical insemination .....no anaesthesia required

Services

Facilities

to

Merefield

Stud

Merefield Stud in conjunction with our veterinary partners MVS VETS offer a full range of reproduction services including semen analysis and freezing,quantitative progesterone testing,artificial insemination with fresh,chilled and frozen semen,endoscopic insemination and surgical implant.Semen import - export and storage.

These sires are not on our 2014
sire list and are subject to availability and shipping.Please contact our stud office as soon as your bitch breaks in season

Merefield Stud now have access
to Ireland's top established sires and all of the new first season sires standing at Ireland's number one stud facility

Silverview Perky
is here visiting our sire
Bubbly Razldazl

...................................

Another litter of
11
born to
The UK's Best Sire
Montos Mark

Merefield Stud have a number of
new sires to introduce shortly including sires from the USA & Australia


IF THE SIRE OF YOUR CHOICE IS NOT ON OUR LIST PLEASE TELEPHONE OUR STUD OFFICE AND WE WILL SOURCE IT FOR YOU

VIEW OUR 2014 SIRE LIST HERE

Sire News

IRISH SIRE UPDATE

...................................

The

Razldazl George back in stock ...limited availability

Gr.1 Winner Bubbly Phoenix

Vans Escalade back in stock ...limited availability

Gr.1 Performer Taranis Rex

Gr.1 Sprinter Ace Drumcrove Lad

Gr.1 Winner Sawpit Sensation

Now available at Merefield

...................................

Premier Fantasy currently out of stock

...................................

NEW FOR 2014

90 % of our frozen semen inseminations are carried out using TCI..no anaesthesia or sedation is required